If you made it this far, you must be curious about joining our massive production so don't chicken out on us now! The Niles Scream Park is ALWAYS looking to expand our wild, crazy and semi-dysfunctional family!
Have you ever wondered what it would be like to "Scare the YELL" out of your friends and family in a haunted attraction? Perhaps scaring just isn't for you, but you still want to get involved? We have you covered! Trust us when we say, it takes a village to operate a Scream Park so there are alternative positions available such as:
Ticket Takers
Midway Game Operators
Traffic Controllers
Make-Up Artists
Parking Lot Attendants
AND MORE!
The Niles Scream Park will welcome over 500 volunteers to the family throughout the course of a season. It takes approximately 250 volunteers to operate at full capacity on select nights in October. We put the CARE in SCARE! While having a blast, all of the volunteers are donating their time to charity and collectively, they represent over 60 non-profit groups. At the end of each season, we host an annual party for our volunteers where these groups receive a donation based on the amount of time they contributed to the project. Since records began in 1996, the Niles Scream Park has donated over $2,400,000! Yes, that's 2.4 Million Dollars!
For more detailed information click here —-> 2022 Volunteer Packet
Although we are all volunteers, trust us when we say, it's the most fun you will ever have!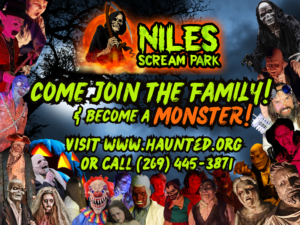 ---
There are TWO primary ways to get involved:
Become a "Group Leader" – You will be the leader of a group of people and provide direct communication to your team of dedicated volunteers. In order to establish a new group and be a group leader, your group must be a non-profit and be able to provide a W-9.
Become a Scholarship Contributor – You don't have a non-profit group to start and simply want to join in on the fun? No problem! You're what we call a scholarship contributor. The Niles Scream Park has various scholarship funds that are annually distributed to select local high schools. Your volunteer time is directly donated to these various scholarships.
---
Ready to get started? Fill out the contact form below and you will be in direct contact with our Volunteer Coordinator, Ross! Please note that all volunteers must be at least a Junior in High School.