The place everyone's been screaming about
The Niles Scream Park is not just scary, it is considered by many to be one of the top haunted attractions in the country! Certainly one of the largest, the Niles Scream Park offers 44 acres of blood-curdling fear! Unlike other haunted houses, Niles rebuilds all six major attractions each year to provide you with completely new and unique shows. The professionally designed sets and ingenious scare-tactics led The Niles Scream Park to be recognized by Haunted Attraction Magazine as one of the "Top 31 Must-See Haunted Attractions" nationwide for the last several years! This is no mere roadside attraction! Come visit one of the country's premier haunted houses!
We put the CARE in SCARE
While you're trembling, you'll be helping a good cause. In 2022, the Park donated more than $134,000.00 to local charities! The Niles Scream Park is a non-profit community project that uses approximately 150 to 200 volunteers per night to staff its various attractions. These volunteers represent over 50 Michiana area community and school organizations such as Boy Scout groups, church youth groups and booster groups for colleges and high schools. Since 1996, more than $2,400,000.00 have been donated to local and national non-profit organizations, as well as the Niles Scream Park funded college scholarships for students at Niles, Cassopolis, Brandywine, Dowagiac,  Edwardsburg and Penn High Schools!! What a tribute to our volunteers!
Want to Join our Family?
Have you ever wondered what it would be like to "Scare the YELL" out of your friends and family in a haunted attraction? Perhaps scaring just isn't for you, but you still want to get involved? We have you covered! Trust us when we say, it takes a village to operate a Scream Park so there are alternative positions available such as:
Ticket Takers
Midway Game Operators
Traffic Controllers
Make-Up Artists
Parking Lot Attendants
AND MORE!
CLICK HERE for more information
Voted #1 Nationwide!
WE DID IT! | VOTED #1 NATIONWIDE!
Thousands of votes were tallied from all over the United States and after a very tough race, we triumphed!
As you all know, we couldn't have done it without you! – What an amazing tribute to our dedicated fans, supportive community and family of volunteers!
YOU ARE THE BEST! – THANK YOU!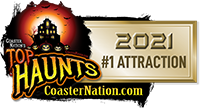 Calling all Former Niles Jaycees
If you know anything about us, you would know that we're one of the OLDEST haunted attractions in the country. To be exact, we've been around since 1974 when we were originally known as the Greater Niles Jaycees Haunted House. If our math is correct, this year (2023) will mark our 50th consecutive season in operation. That is a HUGE milestone in our industry and it's worth celebrating!
We're determined to make it a year to remember! To get "this party started," we're looking to get in touch with those started it all, the Niles Jaycees! If you or a friend or family member happen to know of a former member of the Niles Jaycees, please forward their contact information to [email protected]. Thank you!