NILES
SCREAM
PARK
GREETS
2,000,000th
INTERIOR
VISITOR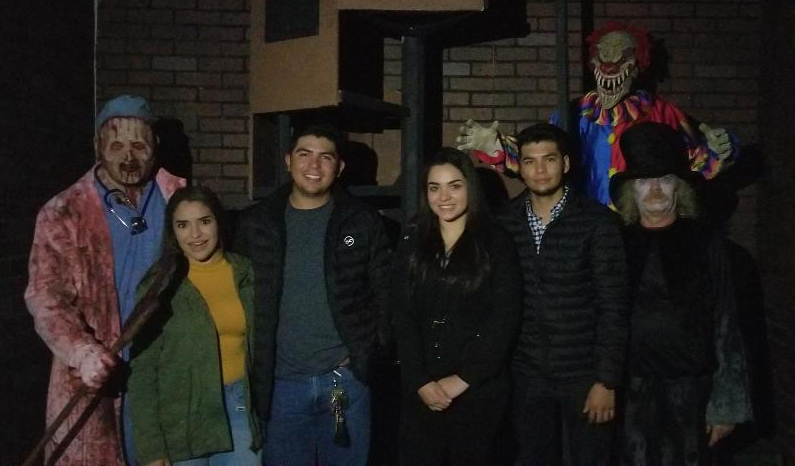 Niles, Michigan (October 17, 2018) – The Board of Directors for the Niles Scream Park is pleased to announce that they welcomed interior visitor number 2,000,000 on Sunday, October 14, 2018. The lucky individual is Yessica Renteria of Plymouth, Indiana. As a result of her good fortune, she received a special "ghost pack" of goodies from the Niles Scream Park.
Yessica was accompanied by her friends George Barragan of Plymouth, IN, Brenda Huizar of Michigan City, IN and Alejandro Huizar of Lafayette, IN. This was Renteria's second visit to the Niles Scream Park and she said she just had to bring her friends along for the fun.
2018 is becoming the year for breaking records. Setting an all-time attendance record on Saturday night, the Park welcomed 14,823 interior attraction visitors. Park Manager Pete Karlowicz remarked, "We are thrilled that we have so many dedicated fans!"
Providing chilling entertainment for the last 45 years, the Niles Scream Park is pleased to celebrate interior visitor number 2,000,000.
Open weekends through October plus Wednesday, October 31st and Friday and Saturday, November 2nd and 3rd, the Scream Park is located on Mayflower Road in Niles, Michigan. The Park easily is accessed by taking Exit 5 (Niles-Buchanan Road) from the US 31 Expressway.
For more information call 269-687-FEAR or check out the website at www.haunted.org.
Pictured in the photo (L-R) are: Dr. Fear, Yessica Renteria, George Barragan, Brenda Huizar, Alejandro Huizar, Koko and the Ghost.