NILES
SCREAM
PARK
GREETS
1,800,000th
VISITOR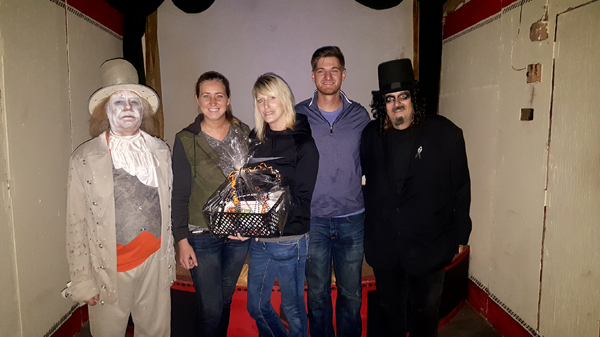 Niles, Michigan (October 18, 2016) – The Board of Directors for the Niles Scream Park is pleased to announce that they welcomed interior visitor number 1,800,000 on Sunday, October 16, 2016. The lucky individual is Cindy Bowers of Elkhart, Indiana. As a result of her good fortune, she received a special "ghost pack" of goodies from the Niles Scream Park.
Ms. Bowers was accompanied by her friends Brad Russell and Anna Zultanski, both of Three Rivers, Michigan. Bowers said that she has visited the Niles Scream Park two or three times with her kids, and this year she insisted her friends come with her because "it's awesome!"
Providing chilling entertainment for more than 40 years, the Niles Scream Park is pleased to celebrate interior visitor number 1,800,000. Manager Pete Karlowicz said of the milestone "That's a lot of screams!"
Open weekends through October plus Monday, October 31st and Friday and Saturday, November 4th and 5th, the Scream Park is located on Mayflower Road in Niles, Michigan. The Park easily is accessed by taking Exit 5 (Niles-Buchanan Road) from the US 31 Expressway.
Pictured in the photo (L-R) are: The Ghost Gentleman, Anna Zultanski, Cindy Bowers, Brad Russell and Svengoolie.