2016 Attractions
The Niles Haunted House
Each year we redesign the Niles Haunted House to offer new disturbing scenes and horrifying scares. (But don't be alarmed, fan favorites like the Puke Barrel, Rotating Floor and Elevator Drop will be back as always.)
Welcome to the Niles Scream Park Cinema where movies come to life! Our professional artists and engineers worked all year to recreate scenes from your favorite horror films. This season, our main attraction features classic horror films from the 1930s, including: Creature from the Black Lagoon, The Mummy, Wolfman, Frankenstein, The Raven, Dracula, Dr. Jekyll and Mr. Hyde, House of Wax and Sweeney Todd! With over 100 possible routes, there is no telling just how final the final act will be!
Krampus: A Christmas Curse
From German folklore comes the story of Krampus, the evil horned helper of St. Nicholas. While St. Nicholas comes each year to spread holiday cheer, Krampus and his helpers come to punish the wicked. Naughty or nice, you may be on Krampus' list this year as you tour our brand new attraction.
Cabin 13
In 1962 a group of friends rented a cabin retreat in the mountains. One week later their bodies were found scattered across the back woods. After the incident, the camping resort was abandoned but stories of something inhabiting the camp continue to be told. Locals know well-enough to stay away, but every year as a rite of passage, courageous (or fool-hardy) students attempt to stay a night in the woods. Some are never the same again and some never return at all, and the stories continue about the mysterious Cabin 13 Killer.
The Field of Screams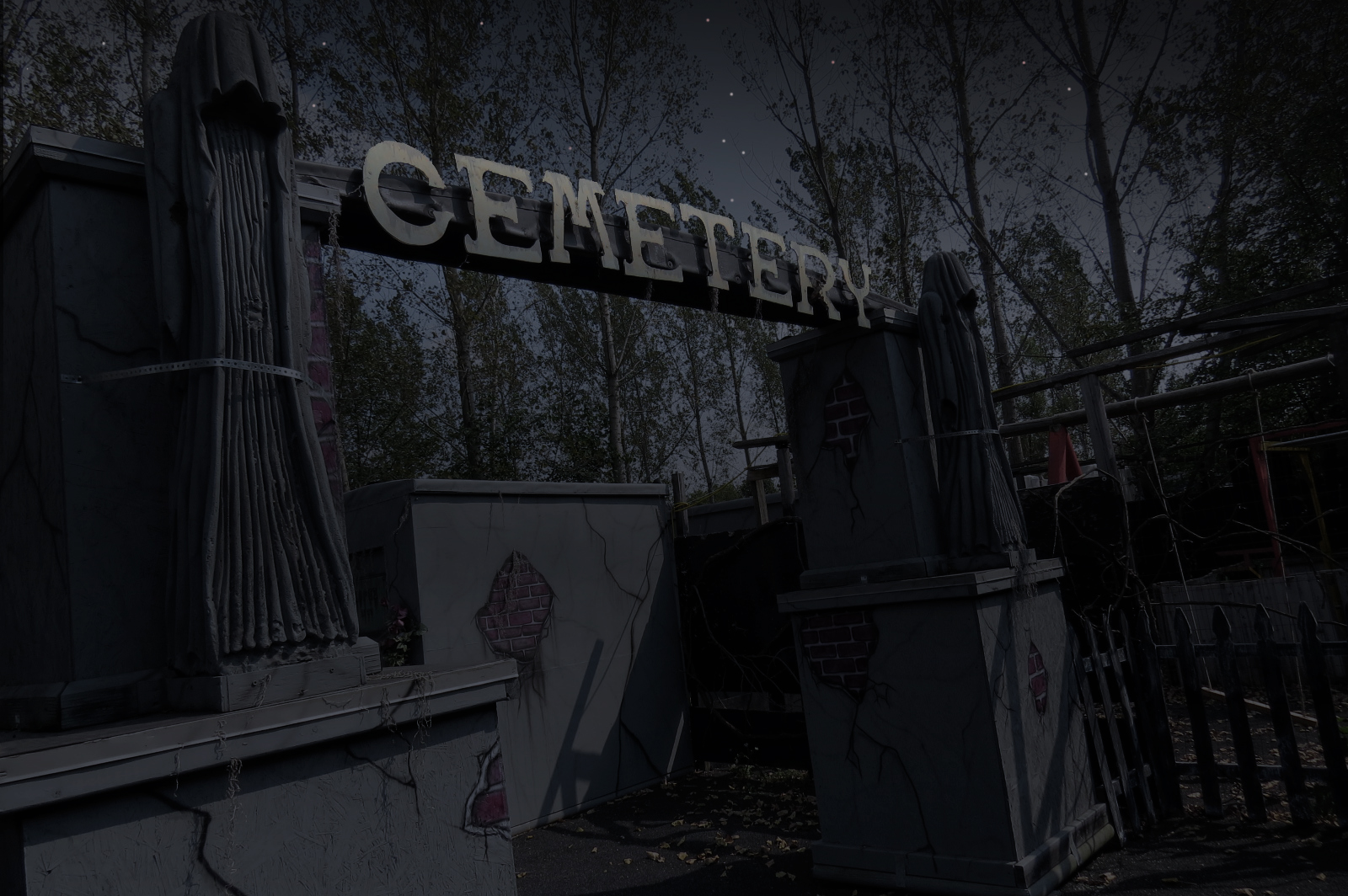 Always a crowd favorite, the Field of Screams is ready to scare you senseless again this year. With mazes to disorient you and classic killers out to get you, you will not come out the same person...if you come out at all! Our advice? Make sure your last will and testament is up to date!
This year we have expanded the maze by adding two brand new scare zones! In the Bayou you will weave your way over a series of floating bridges and fishing shacks, but beware the creatures lurking in the swamp. Clown Town welcomes you with an assortment of fun house mazes staffed with the cheapest clowns we could afford (mostly clown school rejects with a criminal history). Good luck.
Dark TERRORtory Haunted Hayride
With a new route and new sets, this year's hayride is anything but a predictable Fall joyride through the woods. The interactive trail guides you along a series of adventures as you explore the backwoods. Experience puzzling mysteries, intense action and unimaginable creatures in this must-see Halloween attraction.
Zendor Presents: Murphy's Law-If it can go wrong, it will!
No more Secret Service for Federal Agent Murphy. Instead of protecting the President, Murphy guards an evidence locker full of junk! He says his talent's wasted. See the show and decide if you agree!
And don't miss the happenings on the Midway!
Admission to the Midway is 100% free! There you will find an assortment of terrifying entertainment including:
Professional Entertainers
"Harnessing the Ancient Power of the Vampire" will be on the midway Saturdays in October at select times. Secretly siphoning the fluids from his master's casket while he sleeps, Eldridge bottles it to sell on the street as a miracle drug. This stuff really works!!

Check the events page to see what entertainers will be on site the night you visit!
Ghoulish Games
The Last Ride: Step into a coffin, lay down and take the last ride you--and every person--will ever take. This "buried alive" simulator is an experience to die for!

Fry Freddy Basketball: Test your free throw skills. If you hit the target, your success will be shared with everyone on the Midway as they watch Freddy be electrocuted!

Fry Your Friend: Convince one of your friends to sit in the chair, pull the lever and watch them fry!!!!

The Scream Machine: We let you scare other patrons in the Park! Watch live footage of unsuspecting victims passing through one of our haunted attractions. Pick your prey and watch them scream as you activate one of our mechanical scares.

Spooky Splat Paintball Gallery: Shoot paintballs at targets or, on select nights, at a live actor! Our most popular game gives you the chance to hit a moving target.

The Blade: Show off your strength by swinging the hammer so powerfully it reaches the top of our strength meter!

X-terminator: Shoot our specially designed corn cannons at unsuspecting patrons. Beat your friends through the Field of Screams maze and rub in your victory by taking a shot at them!
Things to Do
So You Think You Can Scream? Every Saturday there will be a bloody screaming contest. Show off your stuff and you may win a prize!

Monsters of the Midway: We unleash some of our most horrifying monsters to roam the Midway. It is fun to watch others get scared, just make sure it's not you!

Keychain Photo Opportunity: Go home with proof that you endured one of the scariest haunted houses in the country! Take a picture with your family and friends in a themed set to remember your visit forever.

Scream Park Theater: Grab some concession food, sit down on a hay bale and enjoy a Halloween-themed movie on the big outdoor screen!
Concessions
Concession Treats: We have several vendors on site that provide a variety of tasty foods and treats like hot dogs, burgers, fries, pizza, elephant ears, ice cream treats, hot chocolate and more.

Gore Store: You'll love the selection of Halloween items for sale! Pens, tattoos, shirts, glasses and all manner of sinister samples.