2018 Attractions
The Niles Haunted House
The Niles Haunted House is the largest and most popular of our attractions. It's the one that has been with us since the beginning! Before you even get to the massive house, you must make your way along a long winding path with shaky bridges over dark ponds, foggy paths through trees and a completely blacked out guard building.
Once you get into the house, there are over 100 different paths through the attraction and it's impossible to see it all with less than seven trips. Each year the rooms, theme, sound effects and scares are changed to provide a fresh show every year!
Once you make it through the House, you still have to survive the "rear swamp" which also has many scares and monsters to frighten patrons.
Grimm's Funeral Services
BREAKING NEWS: Long time mortician and owner of Grimm's Funeral Home, Dr. Adam Grimm, was apprehended earlier this evening on suspicions of his involvement with the Stillwater Killings. Over the course of the past three months, nine victims attended funeral services at Stillwater Cemetery on the day they were murdered. Early reports indicate that screams were heard late at night coming from Grimm's Funeral Home. The long time community mortuary has been closed for further investigation into the Stillwater Killings.
The Doll Factory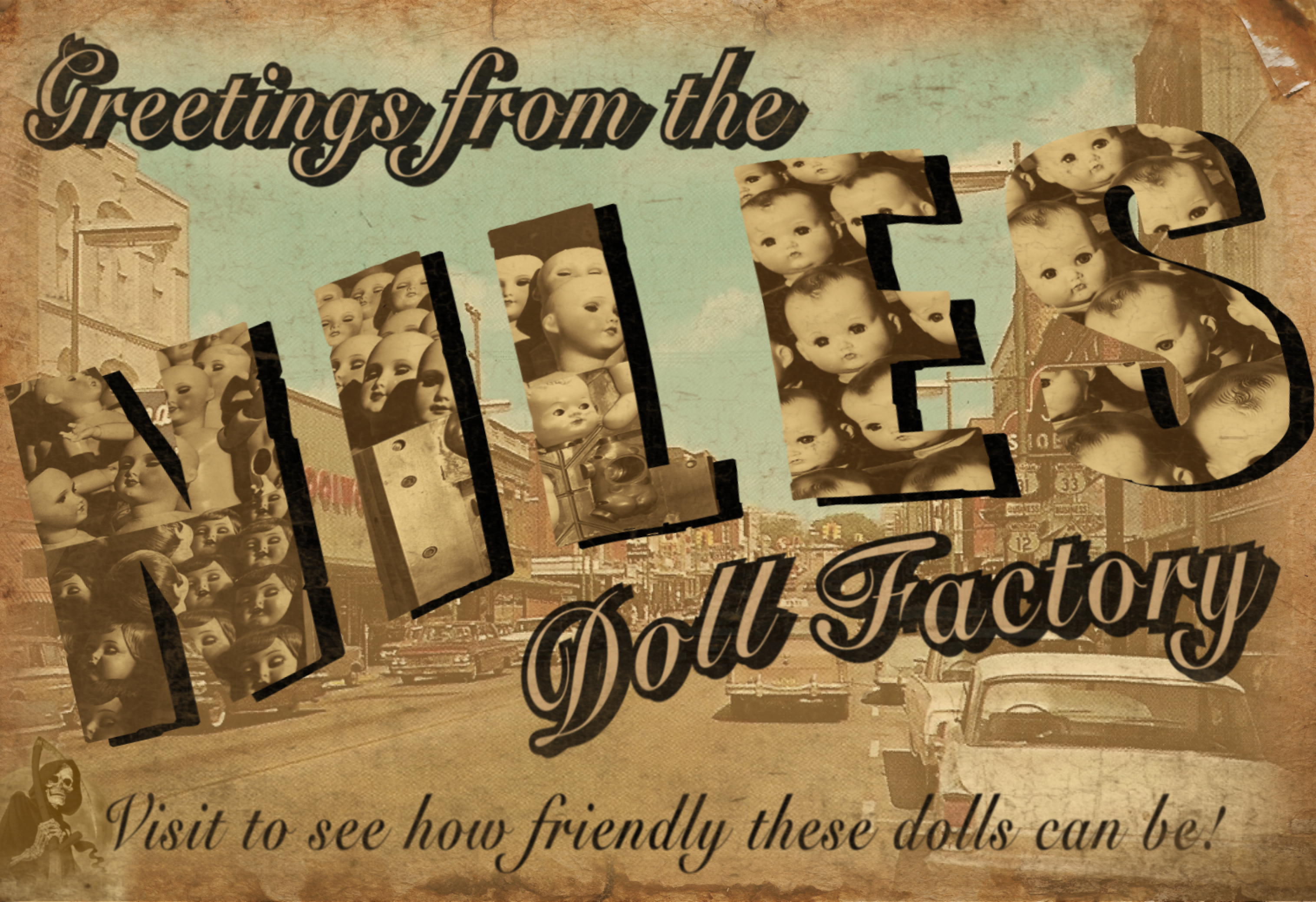 Sybil Campos never had any children of her own, but always wanted to be a mother. To fulfill her lifetime dream, Sybil turned a childhood hobby of creating dolls into a career by growing one of the areas largest doll manufacturers and retail stores. Despite the large operation, Sybil ran the business herself never venturing outside of the factory. In fact, except for deliveries, no one was ever seen entering or exiting the complex. How could Sybil sustain a growing business on her own? Rumor around the town locals is that the dolls come to life!
The Field of Screams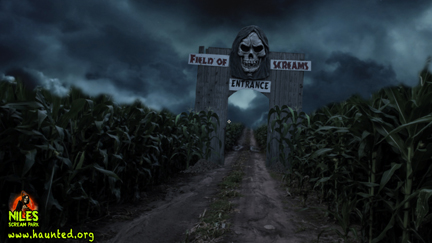 Always a crowd favorite, the Field of Screams is ready to scare you senseless again this year. With mazes to disorient you and classic killers out to get you, you will not come out the same person...if you come out at all! Our advice? Make sure your last will and testament is up to date!
You'll start your trip through the Field by "running the gauntlet" through the new Torture area that's straight out of Medieval times. From there you'll have to make it through mazes and out of the cemetery only to find yourself in the Voodoo Bayou and Cannibal Jungle areas on the floating set.
Survive Zombie Alley and more mazes and you'll be almost at the end, where other patrons on the midway can shoot at you from the Xterminator game! (Hey, we never said it was fair.)
Finally, pass through the final tunnel and hope the dark will put the monsters off your tracks long enough for you to get out!
Dark Terror-tory Haunted Hayride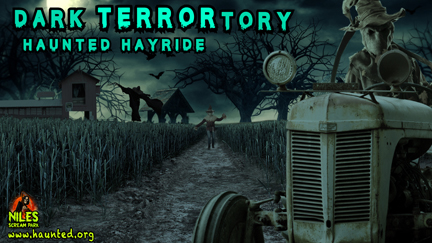 If the other attractions have you tired of running, you can get on board a trailer and ride the Dark Terror-tory Haunted Hayride. The trail is approximately a mile long and filled with more than 30 sets that are woven together into a narrative that changes each year. In the past the trail has featured an amazing lightning and thunder effect tunnel and a prop that "pees" on you in the wagon! A mix of humor and scares, the ride is certainly not a normal Fall hayride through quiet woods.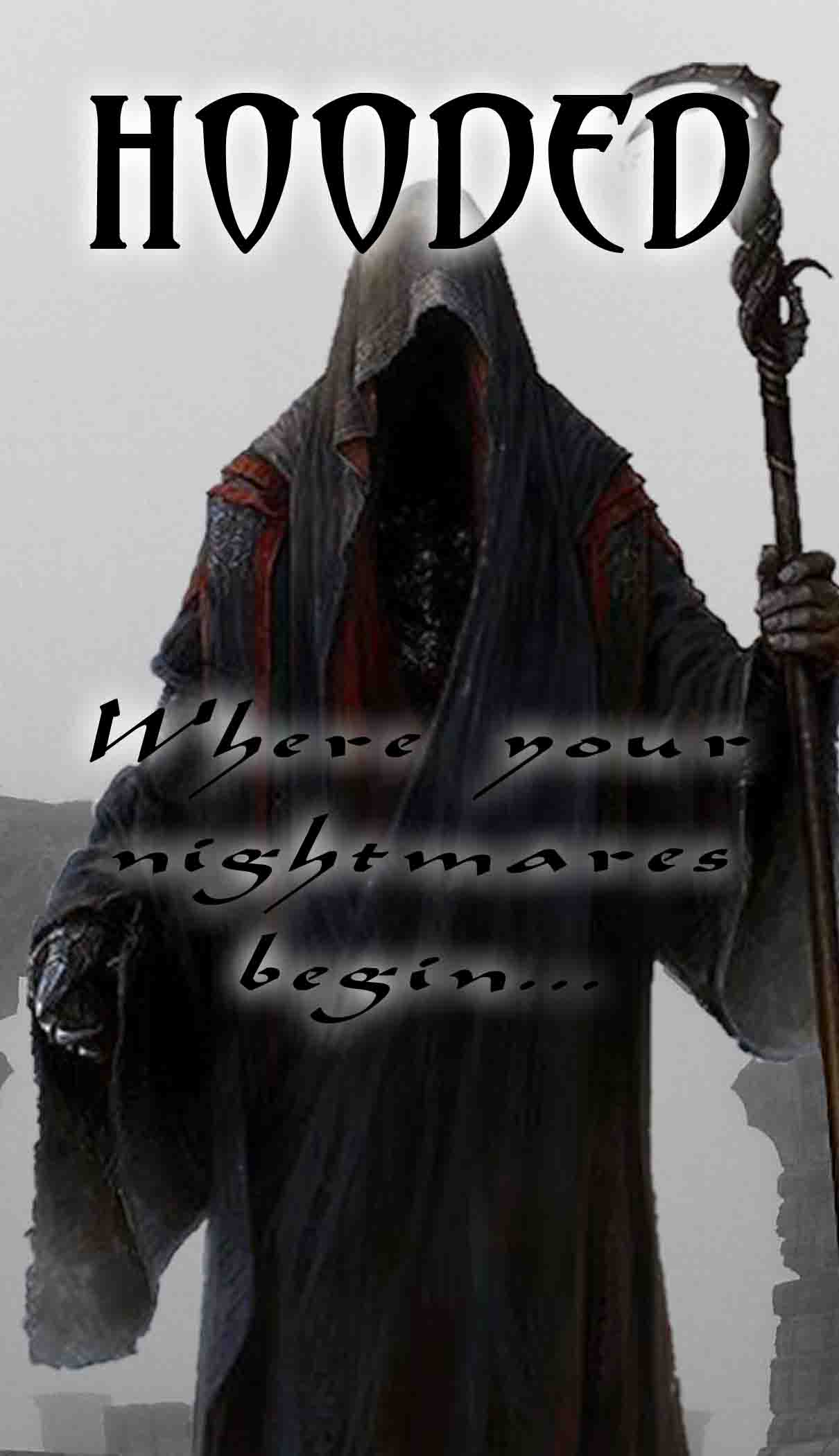 Hooded
Introducing our most intense horror experience ever! Each patron is all alone, blindfolded...and oh yea, our actors can touch you! Adults 18 and older only. Waiver required. (Click here to read waiver.)
Escape Rooms
Returning in 2018, the area's premier escape room company returns with new 5 minute puzzles that put you and your friends in the middle of a horror scenario. Work together to overcome your greatest fears before time runs out! Minimum of four tickets per session. You must make a time reservation at the Park. Three rooms available:
Abducted - A twisted serial killer has placed you in the middle of a sick social experience. With a bomb ticking down, you'll need to work together to escape the room before it goes BOOM!
Sewer Circus - Determined to put an end to a monster clown's evil games, you enter the sewers to hunt him down. Can you stay united to solve the labyrinth standing in your way?
Sinister Seance - Use ancient medium tactics to conjure spirits who will guide you in the right direction.
---
And don't miss the happenings on the Midway!
Admission to the Midway is 100% free! There you will find an assortment of terrifying entertainment including:
Professional Entertainers
Music from DJ R3AM and radio remotes.

Check the events page to see what entertainers will be on site the night you visit!
Ghoulish Games
The Last Ride: Step into a coffin, lay down and take the last ride you--and every person--will ever take. This "buried alive" simulator is an experience to die for! (And it comes with the death certificate to prove it.)

Spooky Splat Paintball Gallery: Shoot paintballs at targets! Our most popular game gives you the chance to hit some moving targets.

X-terminator: Shoot our specially designed corn cannons at unsuspecting patrons. Beat your friends through the Field of Screams maze and rub in your victory by taking a shot at them!
Things to Do
Monsters of the Midway: We unleash some of our most horrifying monsters to roam the Midway. It is fun to watch others get scared--just make sure it's not you!

Photo Opportunity: Go home with proof that you endured one of the scariest haunted houses in the country! Take a picture with your family and friends in a themed set to remember your visit forever. New in 2018, 3D pictures that really bring the fear to life!

Scream Park Theater: Grab some concession food, sit down on a hay bale and enjoy a Halloween-themed movie on the big outdoor screen!
Concessions
Concession Treats: We have several vendors on site that provide a variety of tasty foods and treats like hot dogs, burgers, fries, pizza, elephant ears, ice cream treats, hot chocolate and more.

Gift Shop: New and improved for 2018! You'll love the broader selection of Niles Scream Park apparel and Halloween items for sale at the Broomstick Boutique! Nothing better than a souvenir to keep the Nightmare alive!